About Us

William A. McGinty Co., a Chicago Import-Exporter with 60 years of experience, holds a corporate Customs Brokerage license and has five additional licensed employees.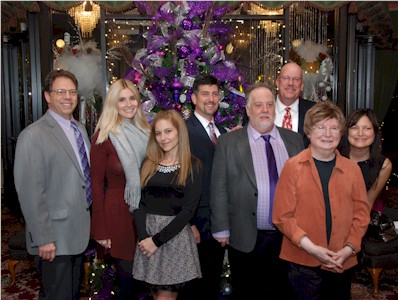 Making History Since 1961
William A. McGinty Co. was established in 1961, and has over 60 years of experience in serving the International Trade Community. Our company holds one corporate Customs Brokerage license (which Mr. McGinty earned in 1959); and five additional individual licensed employees. This is a license issued by the U.S. Department of Treasury, and is a challenge to attain. Several of our conscientious employees continue to work diligently to pass the government requirements to increase these credentials.
Why Us
Family Owned
William A. McGinty Co. has been a family owned business since 1961.  We not only consider our team to be family but we treat our customers like family as well.  We believe this is why we essentially have zero employee turn-over.  What this means to you, our client, is that the people you deal with today will be the same people you will be dealing with tomorrow.  It also means our staff gets to know you, your products, your business, as well as your wants and needs so that they can provide a better quality of service specific to you. Please give us a call at (847) 427-0980 and get to know us.
Experienced
William A. McGinty Co. prides itself on hiring only the best. Our staff of eight people consists of five licensed Customs Brokers. Combined, the five licensed brokers have over 150 years in the industry. Our three non-licensed staff members have over 65 years of experience in our industry and continue to work diligently to obtain their Customs Brokers license. Our experience will give you the confidence and peace of mind that the job will get done correctly. This is what we do; let us get it done for you!
Integrity
Mr. McGinty stated over 50 years ago that our success and growth were due to "the result of hard work, integrity, and understanding the customer's point of view!" Integrity was the foundation of William A. McGinty Co. and continues to be so today. We are a very proud, loyal, and honest company. While Mr. McGinty has since passed, we continue to demonstrate these qualities daily, through our business interactions. Let us be an integral part of your team!
Flexibility
At William A. McGinty Co., you will receive the utmost personal attention on a day to day basis. We recognize that every client needs something different from us. Some desire daily updates while others just want their cargo delivered on time. There is no cookie-cutter system in place at our office. We will brainstorm with our clients to determine the best procedure possible for their individual needs and will then PERFORM accordingly. Let us prove our performance to you!
Our Affiliations - Certifications
William A. McGinty Co. is a member and participating company in the important associations and regulatory organizations in our industry. The list below identifies several of the key affiliations as well as certifications achieved. Click on the name to visit the official website of each.
Testimonials
We measure our performance based on how we meet the needs and expectations of our customers. Learn what our customers are saying about us, shown below and on our
Testimonials Page
.
Roberto A. – Warehouse Manager - Bearings
"William A McGinty Co. has been (our) broker for over 50 years. They have been and are one of our most key partners. Their knowledge and experience on any customs related issue makes them invaluable. They are vital to (our) daily operations."
Kellye R. – Logistics Manager – Plastic Film
"We have worked with Wm. A. McGinty Co. for several years and, in doing so, have found moving our shipments to be a much better experience as they are always willing to jump in on all types of situation we run into as an importer."
Martin P. – Owner – Children's Safety Products
"Customs brokerage and freight forwarding are like any other business – it is a service and like any other service we have expectations….over the past 10+ years we have been extremely pleased and appreciative of services provided to us by Wm A. McGinty Co."
Gayle A. – Dir. Of Int'l Purchasing - Fragrance Packaging
"I am the Director of International Purchasing for a private label fragrance company, and we import components from the EU and Asia. I have worked with Tom and his team at Wm. A McGinty Co. for over 10 years. I highly recommend Wm. A. McGinty Co. because of their expertise, service, reasonable costs and impressive problem solving capabilities. The team is also a kind and friendly group who make dealing with logistics a true pleasure."